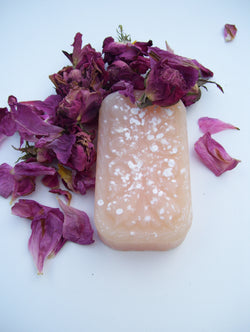 NALI Natural Body Care Products
Al WarD & Lotus Soap - Arabian Red Rose and Indian Lotus Exotic, Feminine and Soft for Girls or Women
Fragrance: Soft Rose and Lotus Floral, Sweet and Ground. Deep, rich Red Rose with sweet feminine Indian Lotus

Bar size: 5 ounces (shrink wrapped & labeled)

Color: Creamy Pale Pink

Durability: 1 - 3 months Note: allow to dry between use.

Exotic Red Rose Attar and Indian Lotus Attar floral scents are blended in a luxurious base of Mango Butter Glycerin, Avocado Butter and Oil, rose water, magnesium Oil, manuka honey, vitamin oils and Dead Sea Mineral Salt Blend. 2 Rose attars and Rose Essential Oil are blended for aromatherapy in addition to the skin benefits of rose. Perfect for females of any age! Men love rose too so don't leave them out of this extraordinary balancing soap.

This handcrafted soap is perfect for all skin types and can be used on the face and body. The creamy lather gently cleans and leaves skin moisturized and refreshed.