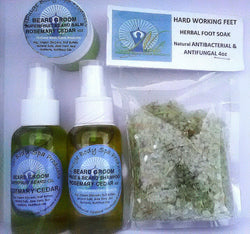 NALI Natural Body Care Products
BEST VALUE - BEARD GROOM SET - Beard Groom Balm, Shampoo, Oil & Antibacterial Foot Soak
BEST VALUE -  BEARD GROOM SET - Everything a man needs!
3oz Beard Groom Beard Oil, 1oz Beard Groom Beard Balm, 3oz Beard Groom Shampoo and 4oz Antibacterial Foot Soak Salts
Made to compliment skin and groom beards of all textures for silky, managable facial hair! Available in two scents - Rosemary Cedar and Al Madinah for light, fresh herbal and warm calming scents! Ph balanced for skin and hair! A little dab will do ya!