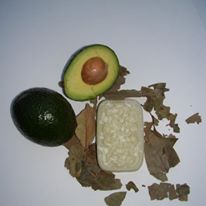 NALI Natural Body Care Products
Avocado Butter - Avocado & Cucumber Soap Moisturizing and Toning for Normal to Dry Sensitive Skin. 5oz bar
Fragrance: Mild, slight cucumber, fresh scent

Bar size: 5 ounces (shrink wrapped & labeled)

Color: Creamy Avocado with dark green specks

Durability: 1 - 3 months Note: allow to dry between use.

Creamy, rich moisturizing bar that lathers into a silky smooth application for normal, dry or sensitive skin! Men use it for shaving and shampoo! Avocado is a natural exfoliant and Perfect for dry, mature or sensitive skin. Great for the whole family.

Organic vitamin-rich avocado and cucumber pulp is cooked to extract its enzymes and oils, then blended with Avocado butter and Avocado oil into a Mango Butter glyercin soap. This soap deeply cleans and exfoliates with natural AHA, French green clay, sea nutrients, magnesium oil, Indian rose water and Dead Sea salts.

This handcrafted soap is perfect for all skin types and can be used on the face and body. The creamy lather gently cleans and leaves skin moisturized and refreshed.